NPC ‣ The Architect
Description
Edit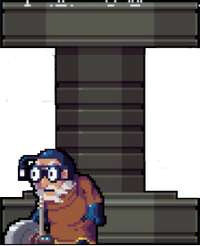 The Architect will lock down a Castle layout for you so you can redo it and look for what you previously missed.
Caveats:
Gold pickups are worth 60% of their normal value (after bonuses).
All normal monsters and breakable objects respawn.
Opened chests stay opened.
All bonus rooms which have been used stay used. This includes Mini-bosses which have been killed.
Failed Fairy chest challenges reset.
Keep previous map. This means that all visited teleport rooms stay mapped, and can be teleported to right away.
When you beat the game, you can't lock down the castle when you start a New Game+, meaning the castle WILL have a new layout each time you beat it.
Uses:
Teleport straight to boss rooms (allows for practice and constant fighting)
Attempt mini-bosses you passed or died to
Retake Fairy chest challenges
Get previously impossible chests/areas with a new character that has Dwarfism/Flying
In the demo, you only get to keep 50% of the gold you find, as opposed to 60%.
In the full game the Architect originally only took 30% of gold dropped.
If you try to use the Architect before entering any castle (for example, by visiting him right after starting a New Game+), he will refuse you and say: "Sorry boy, there's no castle to build right now. This screw is just for show."