Spiritual Shrine ‣ Special Items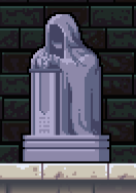 Introduction
Edit
Special items are items received after praying at a Spiritual Shrine. They are placed in the slot adjacent to the spell slot, and are either lost upon death or destroyed after one use. Picking up a second special item will replace your first one.
Hermes' Boots
Edit

Regular floor spikes can be walked on.
It does not prevent damage from wall or ceiling spikes or prevent spike traps from triggering and causing damage, like P.A.D. does.
If a Paladin blocks while standing on floor spikes, it will activate the shield and use mana.
Charon's Obol
Edit

Allows you to enter the castle without paying Charon's toll. It will be used the next time you enter the castle; you cannot choose not to use it.  Very useful for getting a large pool of gold for the more expensive upgrades.
"Oh hoh ho! So you have my obol. I will let you pass for free, but only this time." -Charon
 Curse of the Hedgehog
Edit

Taking damage will result in you dropping 50 coins, much like a certain, well-known blue hedgehog. Even if you have the Bounty bonus, you can't earn money as you pick up the exact amount of coins you lost.
Calypso's Compass
Edit

A compass appears at the top of the screen, pointing to a hidden location. Press up to enter the secret door. The secret room will contain 2 chests, which are usually Blueprints or Stats Up.
Nerdy Glasses
Edit
Corrects the Color Blindness, Nearsighted, Farsighted, Nostalgic and Vertigo traits. It also makes hidden items visible and allows for the player to see the correct chest in the 3-chest gamble game.
Helios' Blessing
Edit

Much greater chance and quantity of gold dropping from enemies, but does not affect chests.
Hyperion's Ring
Edit
Give the Hero one free Death Defy for the current round. The Hero is revived at 25% HP.
The Hedgehog's Curse is a reference to Sonic the Hedgehog, where the titular character drops collected rings when hurt.
Hyperion's Ring is a reference to the titan Hyperion of Greek myth, who was the father of Helios and had the power of life.
Calypso´s Compass is a reference to Pirates of the Caribbean.
Helios' blessing refers to the Greek sun god. He was said to ride a golden chariot and carry the sun across the sky. He also was known to be wealthy.
Charon's Obol is a reference to the ancient Greek practice of placing a coin in or on the mouth of a dead person, which would then be used to pay Charon to ferry their souls into the land of the dead.